The release includes multiple new reports and functionality including new biomarkers quantified from brain MRIs as well as the industry-first Dementia Differential Analysis report.
Tampere, Finland, June 14, 2022
—
Combinostics
, the only company providing a complete solution from early detection and diagnosis to the ongoing management of neurological disorders, today announced the release of version 2.1.0 of the cNeuro® platform, which includes the cDSI™ and cMRI™ applications. This latest version includes the launch of the Dementia Differential Analysis report, new disease-specific reports, additional automated MRI quantifications and imaging biomarkers, as well as added administrator functionalities.
"We're very proud to release cNeuro 2.1.0 to our customers," said Richard Hausmann, CEO of Combinostics. "Powered by our innovative artificial intelligence (AI) technology, each new release of the cNeuro platform represents a step forward in our mission to support clinicians in providing the best possible care for their patients with neurological disorders."
The cNeuro platform, powered by AI, includes tools and applications to support radiologists with fully automated detection and reporting of abnormalities on brain MRI and provides a clinical decision support system for neurologists by combining the imaging information with all other patient data. This latest release includes multiple new reports and added functionality designed to further aid radiologists and neurologists in the diagnosis and management of patients with neurodegenerative diseases.
The fully automated brain MRI quantification provided by cMRI now includes new biomarkers as well as quantification of FLAIR lesion counts and T1 hypointensity volumes and counts. New clinically focused cross-sectional reports for dementia, multiple sclerosis (also including a longitudinal report), traumatic brain injuries, and epilepsy are available.
Dr. Hausmann adds, "With over 55 million individuals suffering from dementia and that number expected to double by 2050, accurate diagnosis is essential to providing the best possible care as well as advancing research. Our groundbreaking Dementia Differential Analysis report is the only solution to offer true differential diagnostic support for dementias based on MRI data only, and we are thrilled to offer it as part of this release."
The cDSI application combines and analyzes key patient and demographic data to support neurologists in diagnosis, testing decisions, prediction of disease trajectory, and treatment management. Based on the cDSI application's proprietary machine learning method, the Dementia Differential Analysis report visualizes the quantification and evaluation of patient MRI data against the distributions of key dementia-specific imaging biomarkers and reference data from patients with a confirmed neurodegenerative disease, including frontotemporal dementia, Alzheimer's disease, and vascular dementia. This is in contrast to existing solutions that compare against cognitively normal patient data only, thereby providing only an indication that dementia is present without a specific diagnosis. The Dementia Differential Analysis report provides radiologists and neurologists with greater objectivity to assist in confident, accurate dementia diagnoses.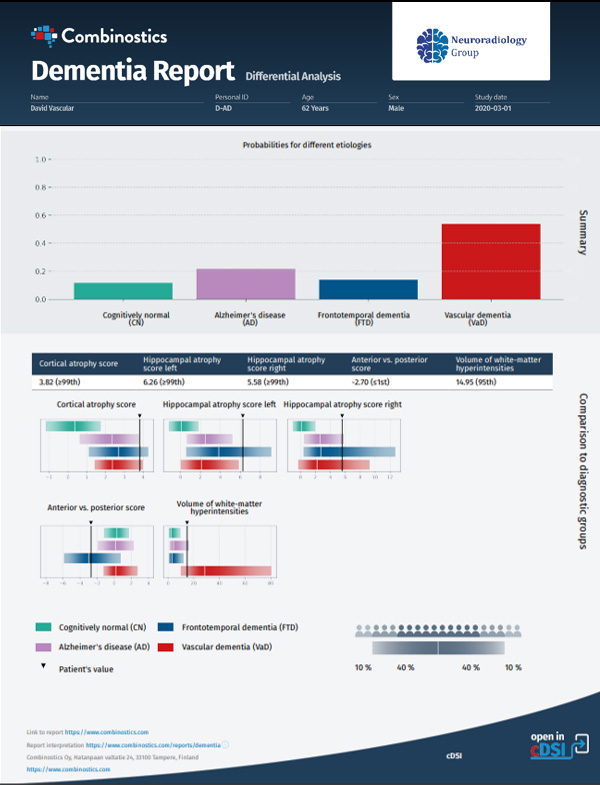 Additional updates to the cDSI application include probabilities of the correct disease classification, which can be prevalence-corrected, and a diagram of those probabilities for a clear, concise visual summary showing how the patient's characteristics compare against the specific diagnostic groups.

The release also provides both the cMRI and cDSI applications with:
For more information or to view a demo of the entire cNeuro platform, join the leadership team at booth #400 at the Alzheimer's Association International Conference in San Diego, California, July 31 – August 3, 2022. Schedule an in-person or virtual meeting at
combinostics.com/AAIC
. For more information about the Differential Dementia Analysis report,
view the release here
.
Combinostics' AI-powered cNeuro suite of products helps clinicians make a difference in the lives of patients with neurological disorders. By quantifying brain images and integrating patient data from multiple sources with insights from previous patients, the company's unique software tools provide radiologists and clinicians the support they need for confident, evidence-based diagnostic and management decisions. The company was founded in 2014 and is headquartered in Tampere, Finland. For more information, please visit
combinostics.com
.